Our club holds a series of fundraising events for you to become involved with as a member.

Sunshine Camp 100 Year Anniversary

This year the Rochester Rotary Sunshine Camp is celebrating our 100th anniversary of serving those with disabilities in our community. Throughout the year we will be celebrating this milestone through numerous programs, our major fundraising events, and an anniversary celebration this fall at the Camp.
We would not be able to support city youth and those with disabilities if it wasn't for the incredible generosity of our donors.
Click here for sponsorship opportunities
Click here to view our 100 year Event Calendar
Click here to download the Event PDF
If you are interested in sponsoring any of this year's fundraising events please contact Heather Rossi, Development Director, at 585-546-7435 x203 or heather@rochesterrotary.org
Celebrating Sunshine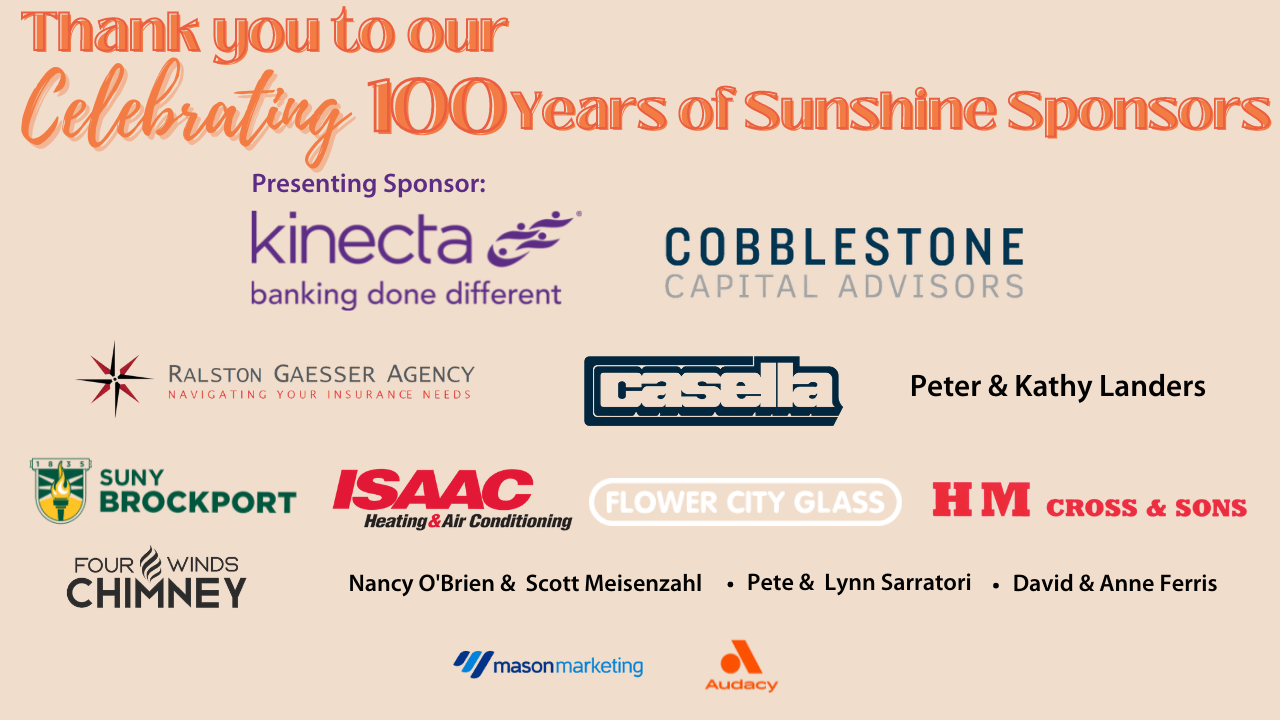 Thank you to everyone who came out to the Sunshine Camp on Friday, November 4th to help us celebrate our 100-year anniversary. We would also like to thank all of the sponsors listed above and the following vendors and entertainment: Birdhouse Brewing Company, Munchies Roc City M'Panadas, Marty's Meats, Guglielmo Sauce, Iron Smoke Distillery, Abbotts Ice Cream, Lisa's Liquor Barn, Holy Childhood Special Touch Bakery, Scratch Bakeshop, Max Doud Music and The A & B Sides Duo.
Sunshine Valentine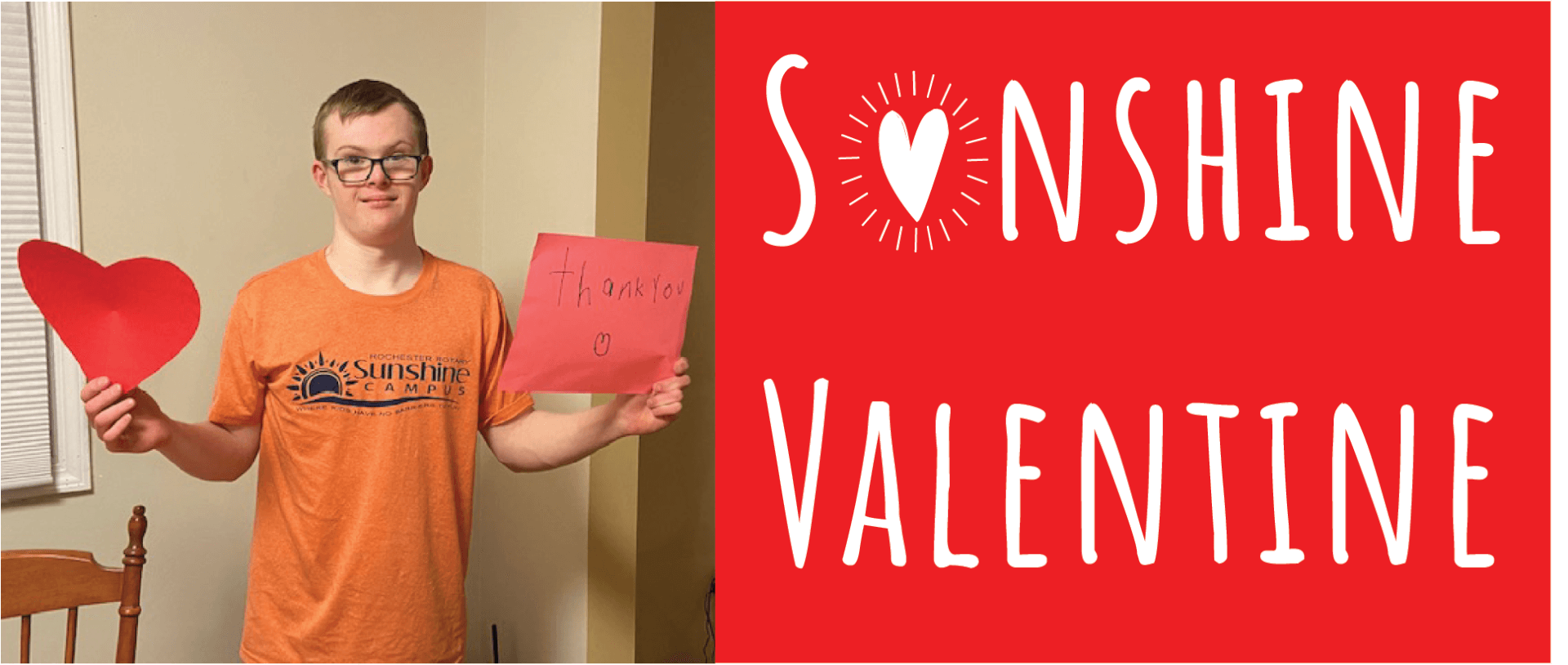 This Valentine's Day, give your loved ones some Sunshine! Our complete Valentine's Day packages offer a variety of flowers, chocolates, wine, and more. Your sweetheart will feel the love and will know they made a difference – every package listed below includes a story from a Sunshine Camper, highlighting the real impact you've made with your purchase.
Thank you to everyone who participated this year! We will see you in 2023!
Sunshine Camp Golf Invitational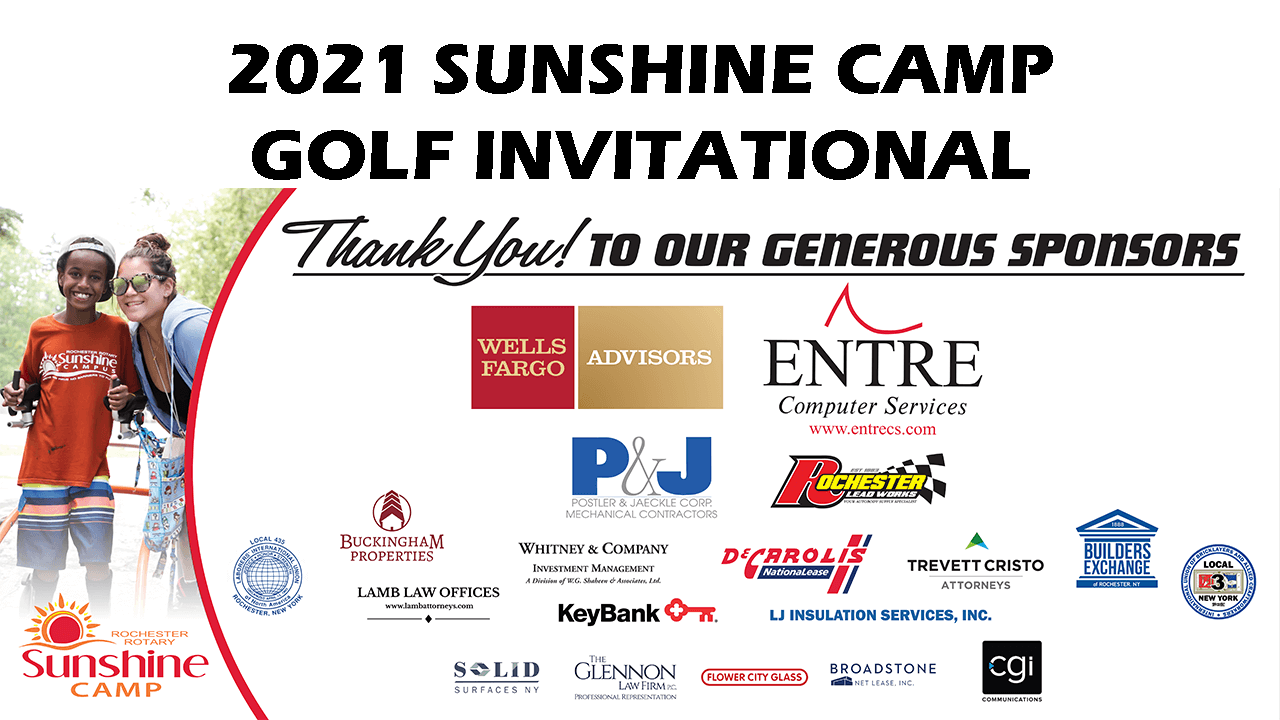 Rochester Rotary holds an annual golf tournament to benefit Rochester Rotary Sunshine Campus, a fully accessible summer camp in Rush, N.Y. for children and adults with disabilities. The tourney is held every August.
Shirley Isaac Memorial Sporting Clays Tournament

Shirley Isaac passionately worked with the Rochester Rotary Sunshine Campus. This tournament directly benefits the children attending campus and the fully accessible playground that was built in her honor.
Sunshine Camp 5K / 10K Trail Mix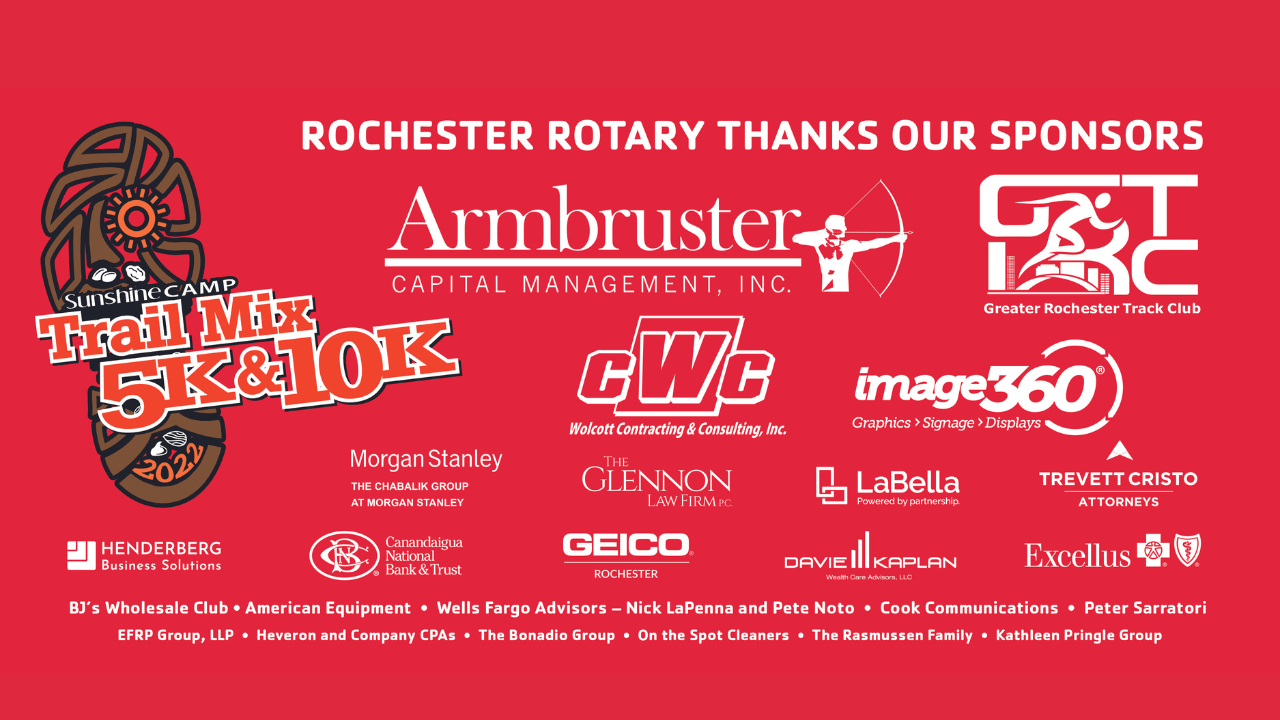 Thank you to our 2022 Trail Mix Sponsors. We had a great turnout for our 4th Annual Trail Mix 5K & 10K  Sunday, October 9th.  Participants that walked or ran to support over 2,500 children and adults with disabilities attend the fully accessible Rochester Rotary Sunshine Camp every summer free of charge. Keep your eye out for next year's race.
Eastern Cities Fellowship Dinner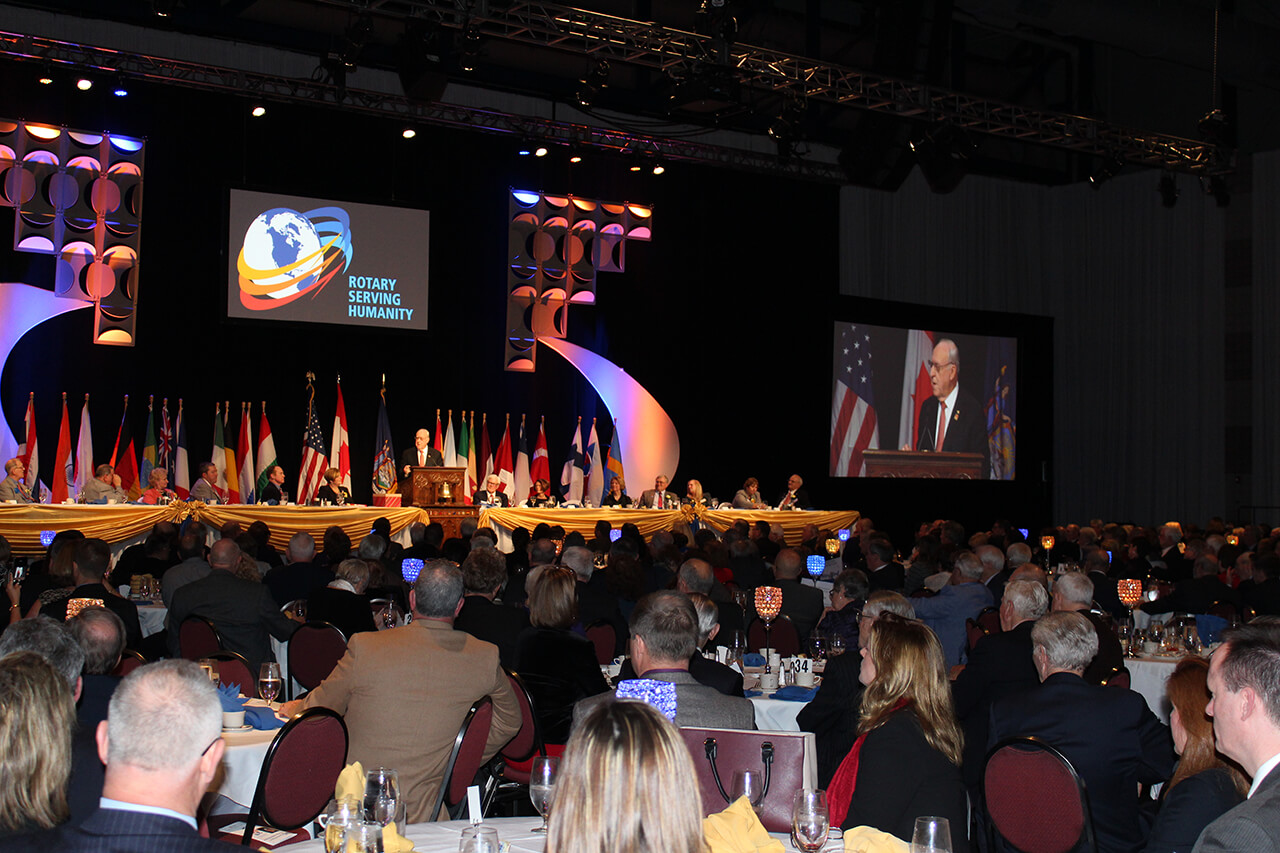 Rotarians from across the eastern U.S. convene in Rochester at the annual Eastern Cities Fellowship Dinner. The highlight of the dinner is a keynote speaker from Rotary International leadership. This year marked the 94th year of this fellowship dinner, which is attended by more than 400 Rotarians.
RPO Holiday Gala Pops
Rochester Rotary gets an exclusive … the opening night of the annual RPO Holiday Pops concert. This annual event is one of our biggest fundraising events for Rochester Rotary Sunshine Campus and Roberto Clemente School #8. Each and every year, it brings holiday smiles to the faces of more than 2,000 people who attend.
It is the one event every Rochester Rotarian is expected to participate in, through a sponsorship, purchasing tickets, or a donation.
Join us this year on Thursday, December 15th.
Click here for sponsorship opportunities. 
Construction for Sunshine Kids Reception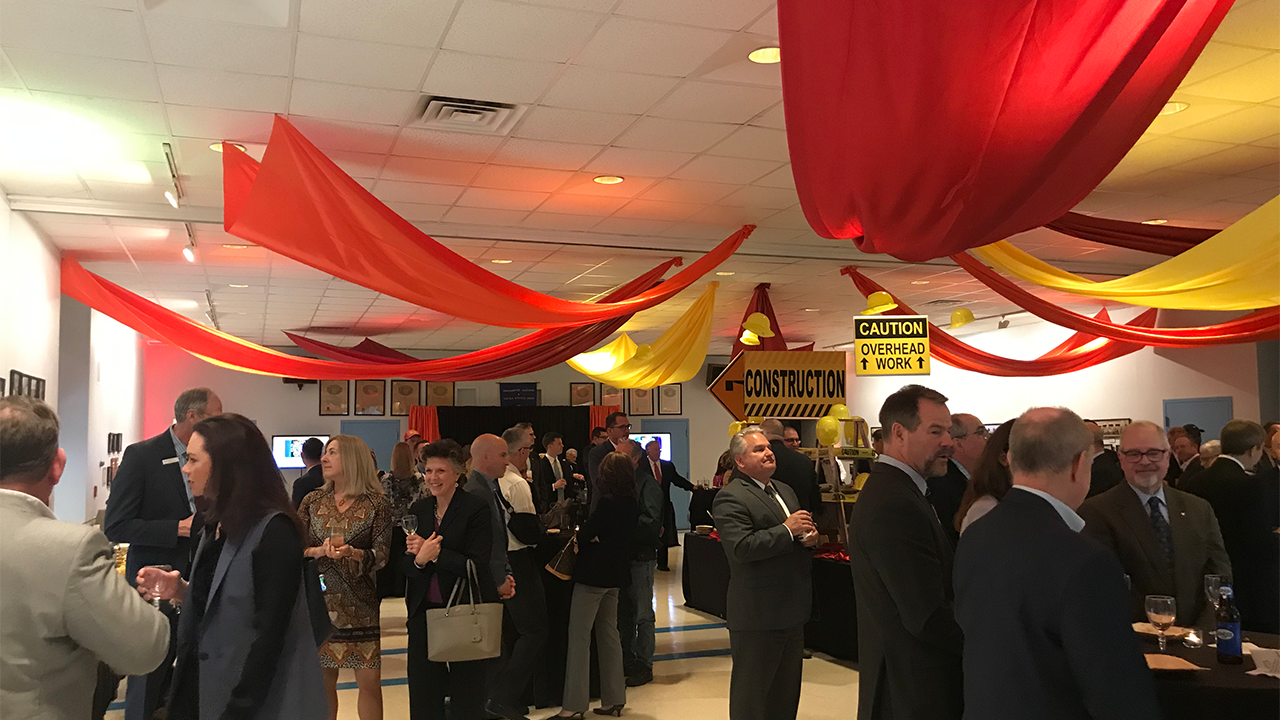 The Rochester Building and Construction Trades Council and Builders Exchange of Rochester join forces on the Construction for Sunshine Kids reception, which raises funds for Rochester Rotary Sunshine Camp. The organizations and their members have sponsored this event for nine years.
Rochester Rotary Award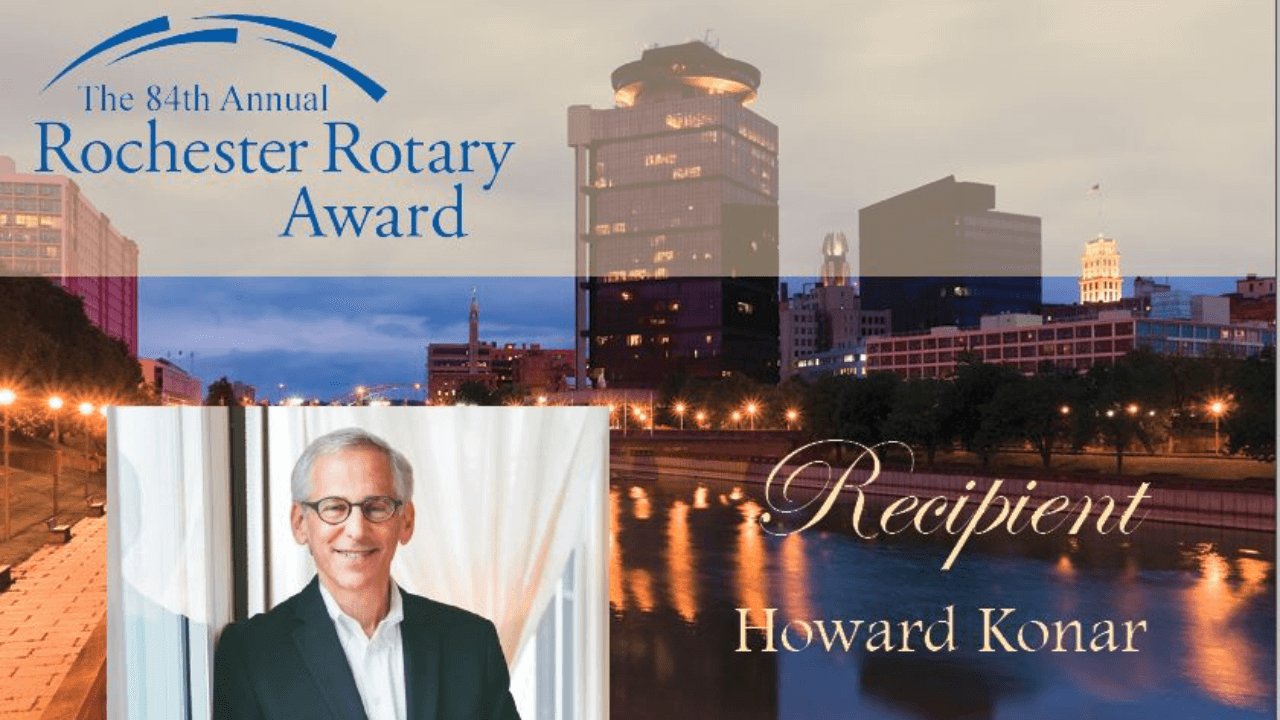 The Rochester Rotary Award is the oldest and most prestigious civic award in Rochester. This year marks the 84th year that Rochester Rotary bestowed the award.
The award recognizes a community member who has made significant contributions to others and to our region and who personifies Rotary International's "Service Above Self" motto. An honoree must demonstrate exceptional community spirit, touch the lives of many citizens, and serve as a positive role model.